Audiologist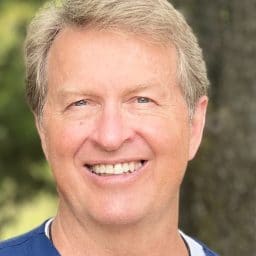 Jeff earned his master's degree in Audiology from the University of Oklahoma in 1993. He started his career at the Hough Ear Institute at Audio Recovery specializing in diagnosing and hearing aid fittings. He worked there until 2014, when his family decided to move to Arkansas, there he worked as a dispensing Audiologist. In 2019, his family decided to move back to Oklahoma where he joined our practice. Jeff feels privileged to be a member of a team that strives to help people achieve a greater quality of life through better hearing.
In his spare time, Jeff loves riding his mountain bike. "It allows me to stay connected to his inner child, because its so much fun." One of his favorite books is 7 lessons from Heaven. The 7th lesson he leans on every day is "in our mistakes, tragedies and losses" God never leaves us, His goodness and love surrounds us. In His time, beauty blossoms in all things.
God has blessed Jeff with a beautiful wife, 3 grown kids, a super son-in-law, an adorable granddaughter and an Australian shepherd that is always happy to see him.